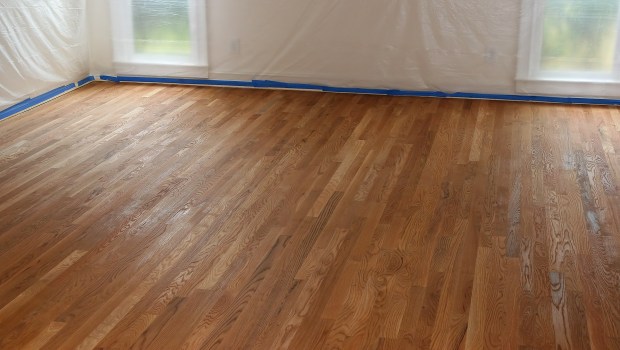 The best stud finder for floor joists will allow you to assess, address, and replace your floors easily. This article offers an in depth look at some of the top models to consider.
Introduction
Are you looking to get your floor work done without any complications? Understanding your sheeting and joists can be challenging without the right type of help. The best stud finder for floor joists will eliminate the confusion and ensure a smooth procedure.
Regardless of the structure of your floor joists, the best stud finder for your needs should make light work of the process and cut both the costs and timelines involved with your floor work. With the right stud finder, you could even pinch a penny or two. This interactive guide offers a detailed look at some of the best stud finders available on the market today.
Comparison Table
The Best Stud Finder For Floor Joists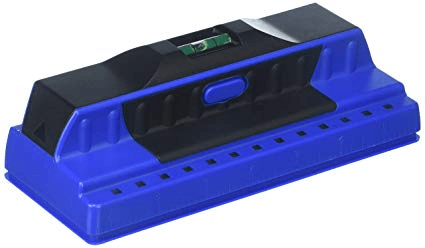 This 3-in-1 stud finder offers a built-in leveler and ruler for added value. It is very easy to operate, and requires only the use of a single button. It has 13 sensors, which deliver an accurate reading of your surface.
The sensors are also fortified with Triple Accuracy Technology, which triangulates data from all sensors to present a detailed and highly accurate output. It can detect joists, edges and studs. This stud finder also offers a deep sensing feature which allows for deeper scan results across heavily dapped surfaces.
Pros
Multi-feature stud finder is very efficient
Very easy to use
Highly accurate results
Cons
Not the most convenient design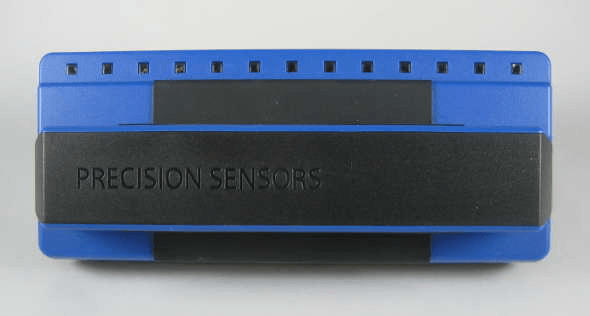 Made in the USA by a trustworthy brand, Precision Sensors ProFinder 5000+ stud finder lives up to its name by producing one of the most accurate output of any models on this list.
This stud finder is a great option for a variety of use, thanks to its built-in additions. The integrated ruler, built in bubble level, and conveniently armed pencil caddy will make any task quick and efficient. The precise sensors also set the standards in terms of detection depth, with a 1.7 inch length. It can detect both wood and metal, making it ideal for a variety of builds.
Pros
Bubble level and ruler are value additions
One of the best detection depths
Easy to use
Cons
Not the most convenient design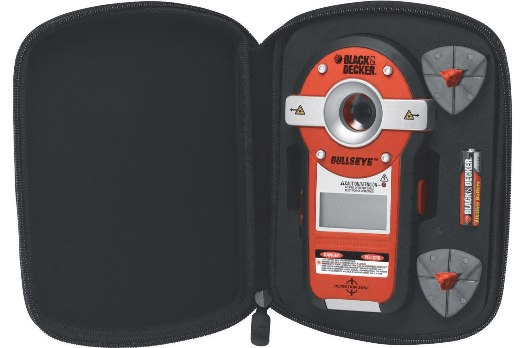 While it lacks the versatility of the 3-in-models listed above, the Black and Decker BullsEye stud finder offers a great enough performance to make it to this list. This sturdy stud finder also features a unique and patented auto-leveling technology. It is a stand-out 2-in-1 model that will work for hanging pictures just as well as it would for floor joists.
It can detect mood and metal, as well as identify live wires. The model offers an easy to read LCD display and is similarly easy to use.
Pros
Can be useful in other applications
Automatic calibration for easier use
Very easy to read display
Cons
Does not offer the best detection depth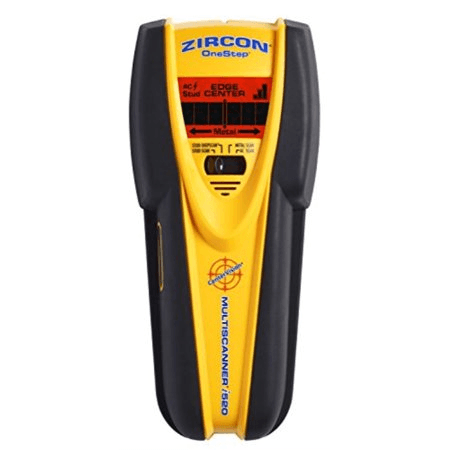 The Zircon i520 multi-scanner stud finder is a versatile option that will serve you for a variety of detection needs. This scanner will easily and quickly detect studs, live wires, and metal within your system for a seamless process. The operation is really easy, and the model is ergonomically designed to ensure minimal strain on the user.
The clear LCD screen and 4-mode output, as well as additional features such as Auto Correcting technology, combine to make this model a great pick. It is also equipped with a Signal Strength Indicator to help you tell deep and shallow targets apart.
Pros
Versatile and efficient
Best designed stud finder for floor joists
Easy to use and understand
Cons
Might take some getting used to for beginners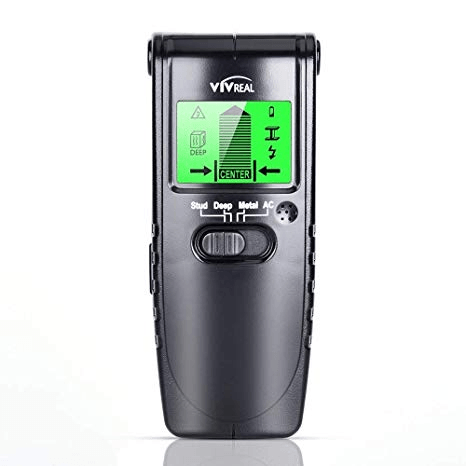 The Tracklife stud finder is a great alternative to the Zircon i520 multi-scanner stud finder in terms of a steady and reliable performance in a great shape. The DMS04 will detect metal, wood and live wires, although it might lack the strength of its rival in the thickest surfaces.
It displays a high visibility indicator light, allowing for easy positioning and detection. While this model is battery powered, it features an automatic shut off that limits its power consumption by cutting the supply after 5 minutes of non-use.
Pros
Smart battery consumption for added value
Easy detection and use
Ergonomic design with a very comfortable grip
Cons
Not the most powerful output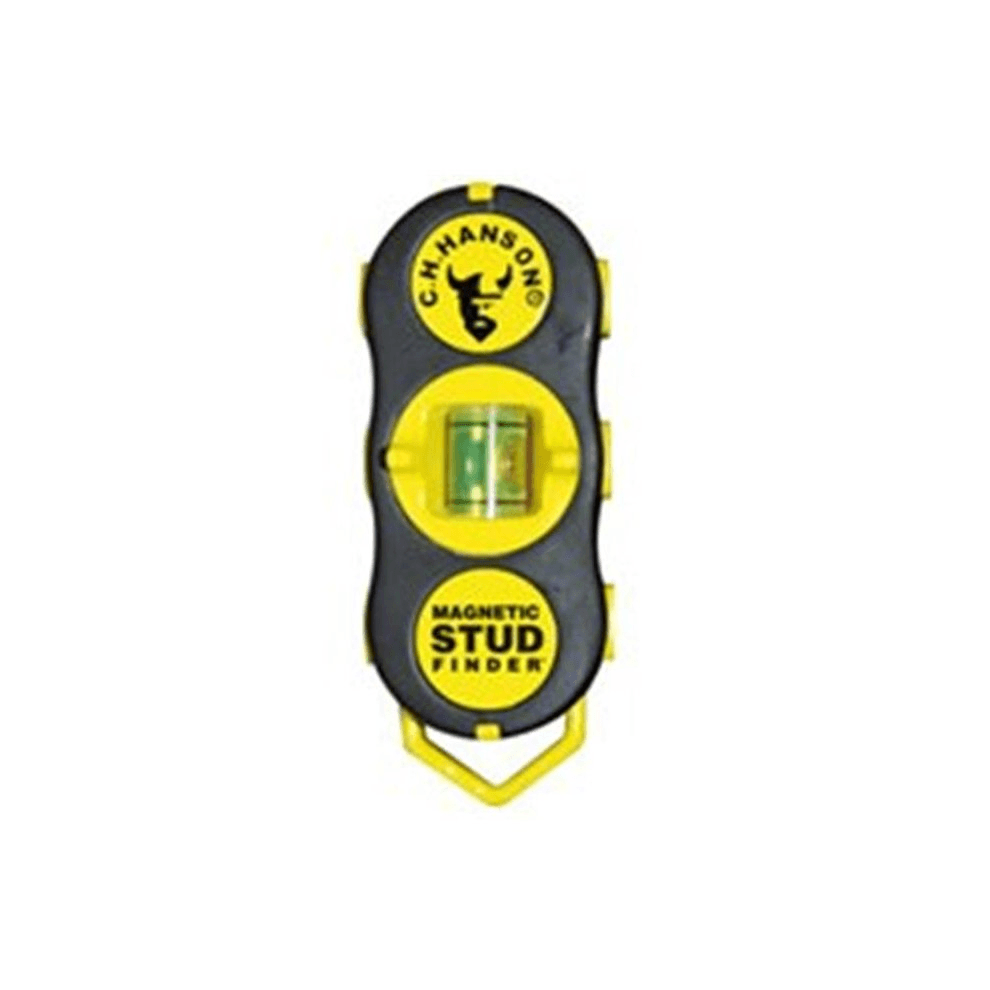 The best magnetic stud finder for floor joists, the CH Hanson Stud finder, will not offer multiple detection capability as compared to other electronic models featured. It does offer a standard output on surfaces of different thicknesses, thanks to its rare earth magnet setup.
This model will pinpoint your screws and nails in the stud, and will not require any batteries. By carrying out a simple sweep over the surface, you will be able to identify your desired studs within minutes. It is strong enough to hang freely when set upon a surface without any distortion, which reduces the need for pencil markings.
Pros
Powerful magnet for accurate detection
Easy to use and understand
Will not require any batteries or calibration
Cons
Not as versatile as other models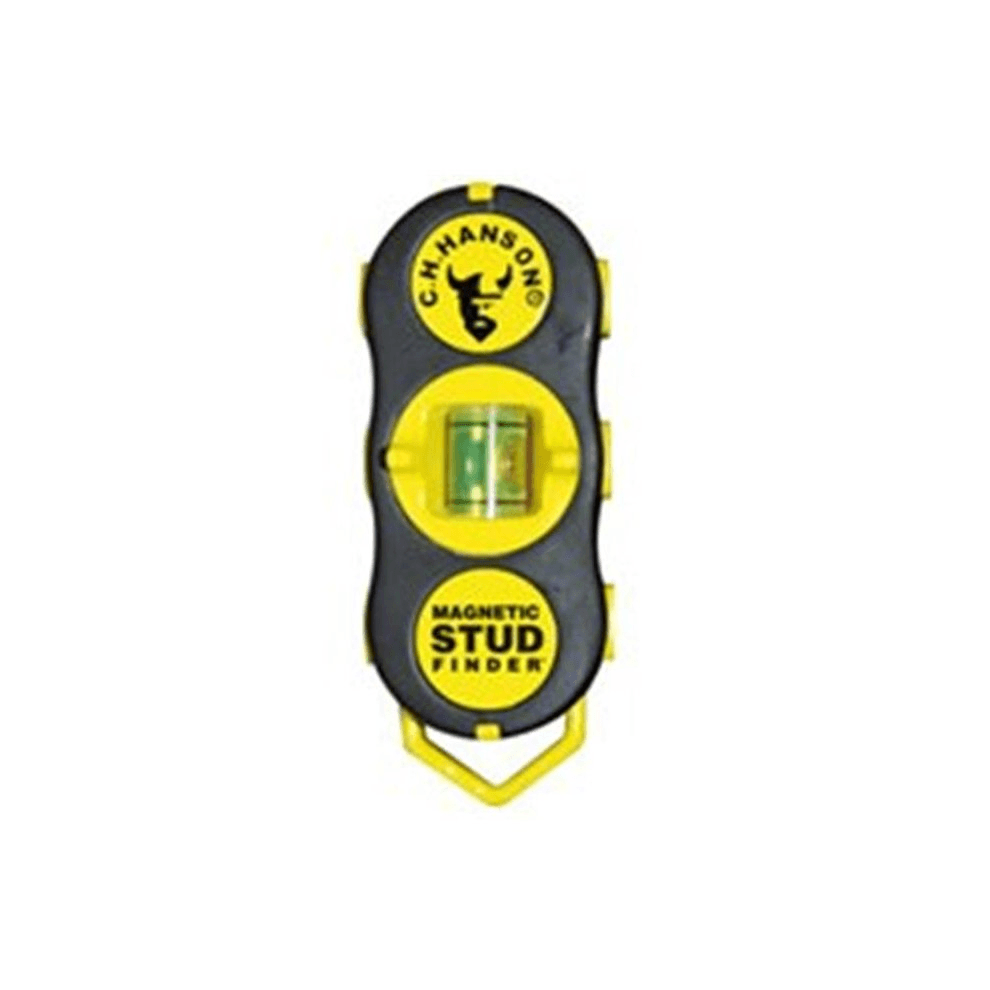 One of the most comfortable models featured thanks to its stellar design, the Classware scanner is a handy lightweight option. It offers multiple scanning ability, and will detect joints, studs, metals and live wires with an impressive level of accuracy. The beeping response and LED support makes this model very easy to use, since you will always know when a an object of interest has been detected.
The stud finder also features a high definition LCD display which reduces the need for ambiguous output. This comfortable model is a great fit for both professionals and DIY-ers alike.
Pros
Durable build and simple design
Very easy to understand and use
Precision detection for added value
Cons
Doesn't offer the deepest detection depth
A multi-scanner that lives up to the versatile expectation set for this handy tool, the Fetanten 4-in-1 stud finder uses an electric signal setup to efficiently identify edges and centers of studs, joists, pipes, metal, and live wires beneath the floor, ceiling or walls in your work space. It features a simple LCD screen that offers a detailed and high resolution display.
This model will offer an audiovisual notification with detection, allowing for zero misses. It can detect studs, metal and parts that are located up to 1.77 inches, which is one of the best depths available.
Pros
One of the best detection depths
Easy to use and decipher
Lightweight and compact
Cons
Button placement may compromise the level of comfort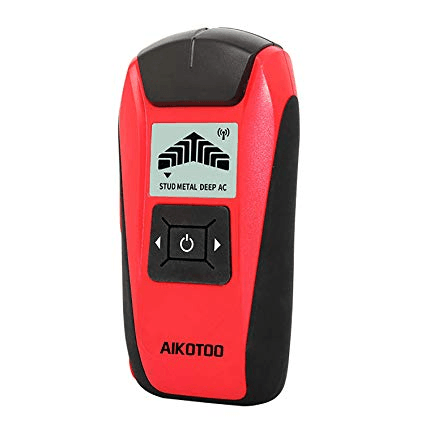 While the Aikotoo stud finder offers a limited detection depth compared to the impressive Fetanten 4-in-1 stud finder, it is a reliable performer that will help detect metal, studs and live wires. The model is suited for floor joists since it is very easy to use, and delivers a satisfactory performance across most surfaces.
It may not offer the most accurate coverage for very deep surfaces, but it can be a leading choice for DIY enthusiasts who are looking to get the job done. With the latest sensor technology and a signal strength indicator, you will always be able to detect studs and other relevant parts on your work surface.
Pros
Lightweight, simple and easy to use
Value buy
Multiple detection capability
Cons
Not the best design featured here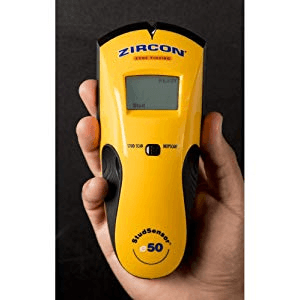 The second model by a great brand, Zircon e50 StudSensor Stud finder Is a high output option with some impressive features. Its detection capability and multiple scan modes allow for the detection of live wires, studs, edges, and joists when working. It is a highly accurate model, and will only require a single sweep over your surface to identify parts of interest.
It is very comfortable, and features a rubberized coat that increases the strength of your grip at any angle. This stud finder will be ideal for walls, floors and ceilings as well.
Pros
Rubberized grip will not slip
Minimal effort required for accurate detection
Wire-Warning detection is the best for any model listed
Cons
Not as deep in detection as some of the featured models
What Should You Consider In The Right Stud Finder?
There are so many options available that it can be frustrating to make the right choice. If you are looking for the right stud finder, chances are high that you will be bombarded by different models that could do the work but may not offer the value you want. This section breaks down some of the top features to consider for the right stud finder.
Center targeting
It may seem basic to people with experience using stud finders, but stud finder calculations can be challenging. If you do not have a wealth of experience with this handy tool, you will need to find a model that already features provisions for center targeting. It can be challenging to learn how to integrate these calculations in your detection, which is offset by these models.
Sensor type
There are two broad types of sensors fitted into stud finders. They can either be magnetic or electronic.
Magnetic stud finders are generally easy to use and feature a strong magnet. Their ability to detect studs and other components will be limited compared to their electric counterparts, and the level of accuracy also fades in comparison. However, they are usually more affordable and deliver a standard performance.
Electric stud finders may need to be connected to a power source, but they are highly accurate. These impressive stud finders will also offer other features that boost value. They generally support LED lighting and feature an LCD display for an easier to decipher output.
Sensor size and alert modes
Stud finders will have various size sensors, depending on the brand and model. These could impact the performance of your device, particularly in the reach covered over a specific surface. Stud finders with larger sensors may cover wider areas, and will usually offer multi-detection capability. Stud finders with smaller sensors may be limited in comparison, but will work just as well for smaller surfaces and irregular DIY work.
Each stud finder will also offer a unique mode of alert when a detection is made. The best stud finder for your needs should deliver a clear alert, which can be audiovisual, but may also involve a light display. Remember, the best model should offer an alert mode you are unlikely to miss out on.
Why Should You Use A Stud Finder?
Stud finders will minimize the time taken to work and will provide peace of mind.
Can detect live wires and other components that may cause safety concerns easily, ensuring your protection.
Minimize the risk of error and increase the accuracy of output.
Can minimize confusion, which can be a major problem when working with components that are not visible
Offer the best access to studs.
Final Word
The Franklin Sensors FS710+ Professional stud finder is our best recommendation for floor joists. This multi-feature stud finder is very well designed and will guarantee stunning output. It works as a ruler and leveler as well, ensuring minimal interruption while working.
With just the press of a button and a single swipe over your surface, this stud finder will deliver stunning results. It also features LED lights and audio output to notify you in the event that a detection has been made. Thanks to the model's deep sensing mode and its embedded triple accuracy technology, this stud finder will deliver quality output!