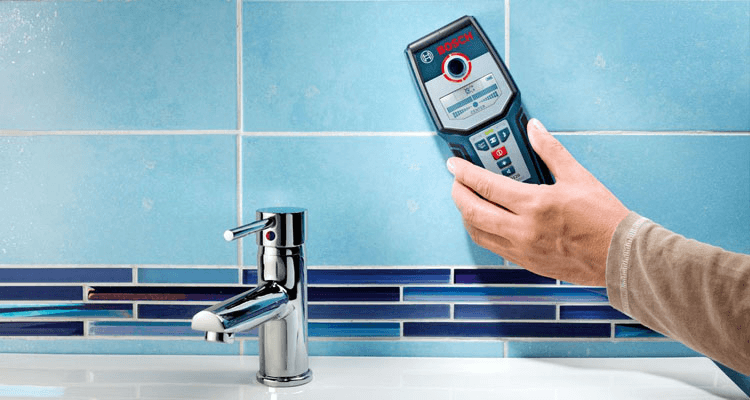 Finding studs behind tile can be tricky due to the thick and sensitive nature of the surface. The best stud finder for tile walls, which we explore in this article, will minimize the risk of damage and make work light.
Introduction
Tile walls are notoriously tougher than drywall and plaster alternatives when it comes to finding studs. They are thicker, and offer fewer opportunities for a trial-and-error approach. The best stud finder for tile walls will cut down the time taken to detect studs, and could be a handy tool to have around.
Different stud finders have their own level of output with tile walls, with some even giving false positives that can be confusing. If you are looking for a great option for tile walls, you need to consider accurate models with a sufficient detection depth. Here are the top stud finders for the job.
Comparison Table
| stud finder | Type | Check on Amazon |
| --- | --- | --- |
| Neodymium N52 magnetic pocket stud finder | Magnetic | Check Price . |
| Zircon i520 Multi-scanner stud finder | Electronic | Check Price . |
| StudPop magnetic stud finder | Magnetic | Check Price . |
| FOLAI Multi-scanner stud finder | Electronic | Check Price . |
| CH Hanson magnetic stud finder | Magnetic | Check Price . |
| AOM Multi-scanner stud finder | Electronic | Check Price . |
| Franklin Sensors ProSensor 710 stud finder | Electronic | Check Price . |
The Best Stud Finder For Tile Walls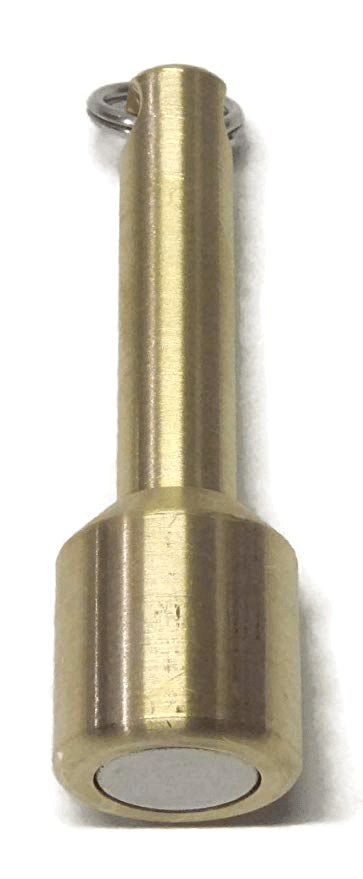 A high end magnetic stud finder, the Neodymium N52 combines the accuracy of some of the leading electronic models with the simplicity of magnetic options. This well designed stud finder features a simple hand-held design that will comfortably fit into your storage space. It has the strongest magnets for any stud finder of its type, which makes it the go-to option for a guaranteed performance on tile walls. It is a great option for both professional tasks and DIY crafts.
Pros
Most powerful magnetic stud finder listed here
Convenient design for easy use and portability
Durable and can sustain heavy duty environments
Cons
Higher end in terms of pricing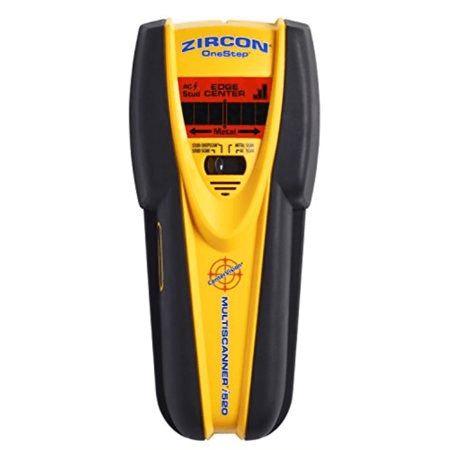 The Zircon i520 stud finder offers a versatile performance, working to detect metal and live wires embedded into your wall. It is a lightweight model which is very easy to use. The high level of accuracy on drywall and tile makes this model a shoe in for our list. It can identify stud edges and centers, allowing a seamless operation. It also offers a great display screen with detailed information, although some customers have complained of loss of sight at an angle.
Pros
High level of accuracy on tile and drywall
Very easy to calibrate and use
Offers additional functions for full value
Cons
Display screen can be tough to read at an angle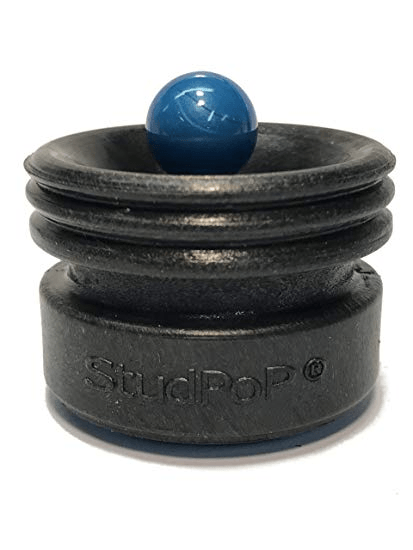 A great magnetic option, the StudPop magnetic stud finder features a popper that alerts you when a stud is located. It is a very effective performer for different wall surfaces, and will deliver high output on tiles as on plaster and drywall. It is also very budget friendly, similarly to most magnetic stud finders. Once in a while the popper may get stuck, but the simple design allows you to correct this by moving it back to its original location. It will require some additional work to factor in calculations for the center and edge of your studs.
Pros
Value for money buy
Great detection depth ensures it works well on different surfaces
Very simple design and generally easy to use
Does not require batteries
Cons
Some users have complained of a tendency for the popper to get stuck
Not ideal for finding the centers of studs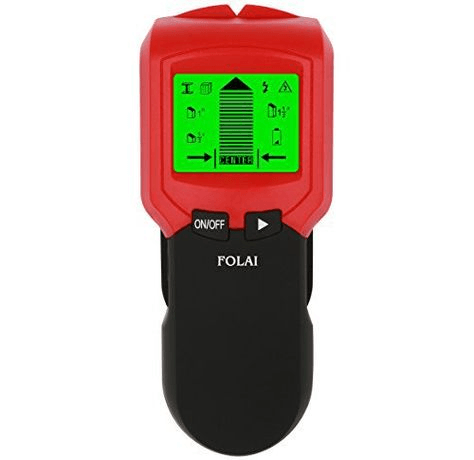 For insulated sheets and very thick walls, the FOLAI Multi-scanner stud finder could be a great value pick. It is very detailed and accurate, and will detect studs through different materials. It works consistently with tiles and offers very few false positives. The versatile scanner will also detect live wires and metal, which makes it a great all round tool. Thanks to a built in signal strength indicator, you can easily and accurately locate stud centers. It may be tougher to calibrate than other models, but includes a detailed manual and various online resources to help you get going.
Pros
Multiple functions for increased versatility
Will detect studs through different materials and insulation
Signal strength indicator included for higher accuracy
Cons
May be harder to calibrate than other options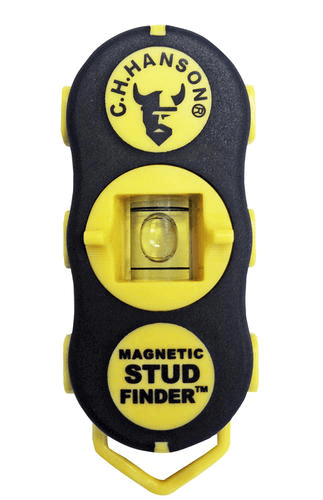 The magnetic CH Hanson stud finder is a great pick for people considering a budget option. It is very compact and simple, and will not require any calibration before use. This model features some very powerful magnets, allowing you to work with different surfaces and even enjoy a hands-free mode. You will not need any batteries, and can store or transport this stud finder easily thanks to the great design.
Pros
Does not require batteries
Powerful rare earth magnet for higher accuracy
Compact and space-friendly design
Easy to use and requires no calibration
Cons
May detect other metal components
Limited capacity to locate stud center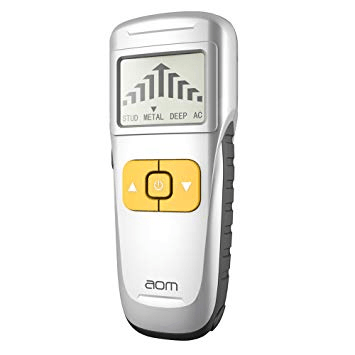 The 4-in-1 AOM Multi-scanner stud finder will also detect metals and live wires. It is a very accurate stud finder, and will offer a decent performance on the other modes as well. Its multi-functionality combines with a great design to make it an appropriate fit for a variety of needs. The detailed screen display will enable you to detect the exact centers of studs. It also features sensitivity support to enable consistent accuracy throughout its use. The model will work on a number of surfaces, thanks to its great detection depth. It does lack the seamless interface of the ProSensor 710 scanner featured below.
Pros
Multi-function capability for added value
Detailed output for higher accuracy levels
Great for a variety of surfaces
Cons
Some features work better than others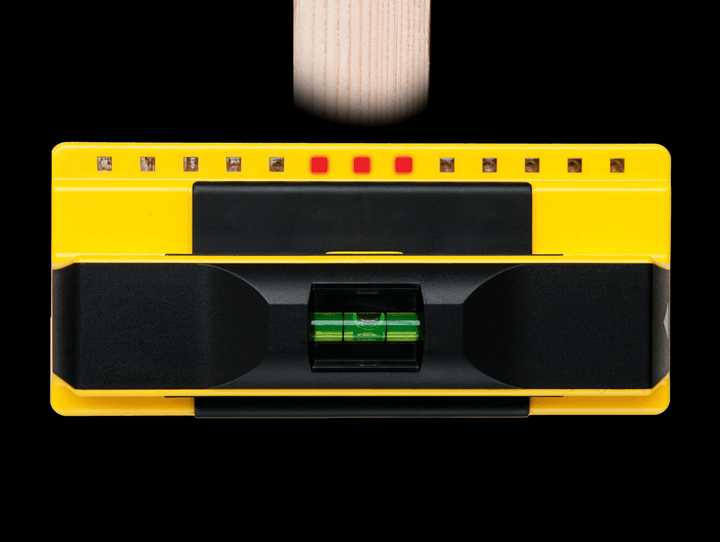 A regular feature for a variety of needs, the versatile Franklin Sensors ProSensor 710 is a high output and intuitive stud finder that will offer great accuracy. It may offer a simpler output than many other models in the same price point, but this minimalist aspect works to increase its ease of use and value. The model features an LED display system that may even top a number of LCD alternatives available. It features an array of sensors, which ensure one of the most accurate detection capacities. The stud finder also offers a sufficient detection depth for tiles, and may even work on thicker surfaces such as outside walls.
Pros
Multiple sensors for higher accuracy
Great detection depth for tiles
Intuitive and easy to understand interface
Compact and sturdy stud finder
Cons
Might not work ideally on wood-paneled walls
Not the most feature rich option
How To Find Studs Behind Tile Walls
Finding a stud inside drywall is straightforward stuff, which is why even basic stud finders will work well. Conventional stud finders, regardless of their quality, will deliver a decent performance on this surface. When it comes to porcelain or ceramic tiles, finding studs is a whole different ballpark.
Why is finding studs beneath tile walls tougher than drywall? What makes it such a hassle? Well, for starters, the thickness of tile and drywall is a world apart. Thicker tile surfaces will require stronger performers with better detection depths, allowing for your tool to compensate for the added surface thickness. A second major reason why tile is tougher than drywall is the complex substrate composition in a tile wall, which isn't an issue for its rival surface. While drywall setup is pretty basic, tile may feature a cement board, layers of mortar, a variety of fasteners, and even metal studs. What works well for drywall may lack the penetrating power for tile.
The biggest reason to consider attaching an item onto your stud is if you are looking to mount a heavy duty item such as an assistive device that will face some stress. You may also consider mounting a wall TV, and other expansive home remodeling efforts. If you are considering smaller and less sensitive items such as a soap dish or plate rack, you could achieve a great effect with epoxy and minimal fuss.
That said, there are a number of ways to locate studs behind tile walls. In fact, only one of the ways we will look at could be considered invasive. Here are the best ways to locate studs beneath tile walls.
UWB (Ultra Wide Band) scanners
UWB scanners are just too heavily priced and powerful to consistently use on drywall alone. In fact, if you are working with drywall uniquely, you may be better off considering less advanced models on a budget. UWB scanners can be costly, but they are the best options for tile surfaces. These scanners will work well with dense, heavy and relatively difficult surfaces to work with. The scanners use radar technology, much like bats.
UWB scanners send out waves through a work surface, which then permeate into and are reflected by components within it. The scanner collects the transmitted feedback, and delivers a map of your target area. This works to help you determine the location of your studs. The scanners are higher end than some of the top stud finders in terms of pricing, thanks to their level of accuracy involved. If you can buy or rent this scanner, you could have your work done in a matter of minutes.
Alternative stud finder options
Dielectric Constant (DC) and magnetic stud finders may offer value when working with tile, but they can be pretty challenging and may be subject to inaccuracy. Consider rare earth magnet stud finders. They can be very tough to use on thicker surfaces, due to the level of patience and effort required. In order to get a reading over tile and underlying substrate, you need to work very slowly over your desired surface to boost your ability to detect studs. Even DC stud finders, which are more popular and offer higher accuracy than rare earth magnet stud finders, will deliver a few false positives when working on tile. The alert options for the latter type of stud finder makes it a better choice for this high precision task.
Classic intuition and investigation
If you know a bit about wall construction and the set up of your surface, you may be able to locate studs without a stud finder. Wall studs will generally be spaced 16 inches on-center, which points to the distance between the center of one stud and its adjacent number. You should start from a good corner, such as one in the shower and mark every 16 inch interval for a hypothetical location of your stud.
It is not possible to tell where the center of your corner stud is, so drilling a few investigative holes is recommended.
While this is very easy for drywall, it can be tasking for tile. Since you could end up damaging your tiles, we recommend drilling pilot holes in the tile grout. When working with smaller bits, you will be able to insert wires or nails to physically check for studs. After identifying the stud, mark it with tape and replace the tile grout. It can be a very invasive option to try out, but with careful steps, you should not have any problem.
Final Word
While some features work better than others, the AOM Multi-scanner stud finder is a high quality model that delivers a top notch performance on tile walls. It may not be reliable AC detector, but it will guarantee stud detection through tile walls without a problem. The big detection depth facilitates a seamless process over the otherwise tedious tile, which ensures valuable output.
You will also need to figure it out if you have no experience with stud finders, but its accuracy and range of information provided on the detailed display should help you out. The compact design and wealth of features also add value to the model.