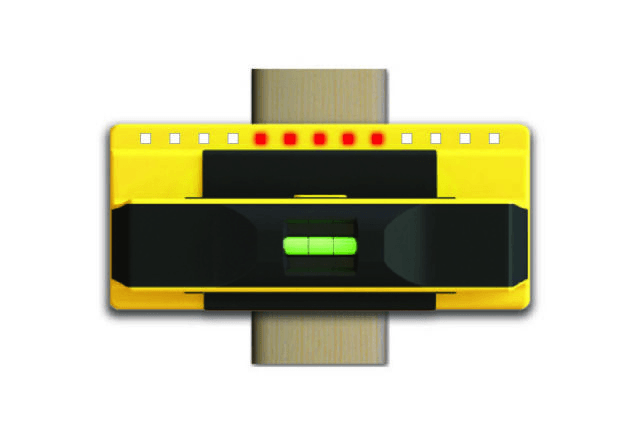 Stud finders are very handy when it comes to hanging shelves or picture frames. This Franklin Sensors FS710PRO will make it easier for you to nail right into the wall anchor point.
If you're trying to hang something on a plaster wall, you can't use just any stud finder. Most of the time, you will find that the plaster is hung over evenly spaced thick wooden studs that are placed too close together for a normal stud finder to get an accurate reading. However, a good stud finder will help you figure out what is on the other side when you're dividing and pounding things into dividers, floors, and roofs. This will prevent you from causing any damage to the drywall or deck.
A stud finder is supposed to detect where bolster zones like studs and beams are behind the wall surface. The more advanced scanners can detect live electric wiring, wood, plastic, metals, and ferrous metal like rebar and non-ferrous metal like copper.
What To Expect From The Franklin Sensors FS710PRO
The Franklin Sensors FS710PRO is a sensor stud finder that uses 13 LED lights to detect anything within a 7 inch area by just minimally placing it across the wall. This stud finder can read double and triple studs, which makes it very effective in detecting studs. Many professionals and homeowners love using this model because it doesn't matter the position you begin from. This stud finder is quicker and more accurate than many, and there is no sliding required.
You get flawless readings from 5/8-inch textured and heavily painted walls and excellent detection of wood studs, even at corners and wall spaces next to doorways. However, like all tools, this ProSensor isn't perfect. It can't find studs underneath plaster or lath walls. A plaster wall has an inconsistency in its density which makes the stud finder often give a false positive.
What Are Its Features?
The Franklin Sensors FS710PRO measures about 7-1/8 inches wide and less than 3 inches tall. It has a protruding handle – with an indented plastic button to activate it to instantly start taking readings using the 13 sensors – that extends across the whole width of the ProSensor. You can get the results of the readings from the top part of the stud finder. This ProSensor model runs on two AA batteries that are placed underneath the black cover of the handle. You can easily scan the wall by placing it horizontally and it has a 90-degree shift that isn't found in other traditional stud finders.
Here are some of its main features.
Deep scanning
Most stud finders can only scan one layer of drywall, but the Franklin Sensors FS710PRO can scan two layers. This will help you scan through thick walls of about 1.5 inches to locate any studs. Such a stud finder will be a great investment especially if you're looking for less expensive ways of insulating your home from external noise and increase your wall's noise reduction rating.
Identify two objects at once
While other stud finders can only measure a single depth of one object in one spot, this ProSensor 710 can detect two objects at the same time. This will come in handy when you're trying to locate studs located around electric wires, light switches, or other areas where it's hard to locate studs on a 16-inch wall.
Instant detection
You don't need to drag this ProSensor 710 across the wall like other stud finders to get a reading, just turn it on and place it on the wall and the 13 sensors will do a deep scan and give you instant results. It will accurately display the center and edges of studs at the same time.
Aggregate sensor readings
While conventional stud finders are good at locating studs, they can get confused if there are irregular wall fixtures or areas where the wall and wood aren't clearly defined like doors, staircases, and windows. This can give you misreading, but the ProSensor 710 will get accurate readings from different points on the wall. In fact, it gives you 7 inches worth of reading to be able to identify the metal and wood studs on your wall.
Identify the object's width
Sometimes it's hard to identify if you've found a stud or something else in your wall. The Franklin Sensors FS710PRO can identify the width of an object. A conventional stud finder uses 1 or 2 sensors, but this ProSensor uses 13 sensors so it can easily identify the width of a hidden object behind your wall.
Pros
This ProSensor 710 comes with 13 precision sensors for accurate readings.
It doesn't require any calibration.
It's quick and easy to use, just place it on the wall and scan.
The 13 sensors are highly accurate to give precise readings every time.
The many sensors have deep sensing to provide a deep scan for a wider area.
It can detect metal and wood.
Cons
It's doesn't provide very accurate readings on plaster or lath walls.
It has an awkward grip.
It can't differentiate between non-ferrous and ferrous metals.
Final Thoughts
This Franklin sensor stud finder is a dependable product that you can rely on to accomplish your tasks. If you're nor working on plaster or lath walls, this ProSensor 710 stud finder won't frustrate you by giving false positive readings. Unlike other conventional stud finders with only 1, 2, or 3 sensors, this one has 13 sensors that will give you accurate and deep scans of every object that is hidden in hard to find places.
The best thing about this stud finder is its simplicity of use and the fact that it doesn't require any calibration, so anyone can use it, from the professional who understands how to use it to the housewife who just wants to hang a picture or a rack on the wall. Although it's not a regular tool that you use around your home, once in a while it will be extremely helpful. This makes it a great tool to have in your home.