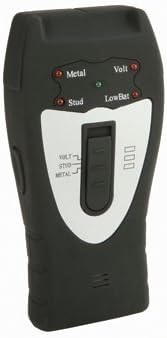 While on my way to an appointment, I realized I'd left my stud finder at home. Rather than turning around to retrieve it, I decided to stop at a hardware store on the way. Having another stud finder already, I didn't want to spend a lot of money on a new one. The need for the best cheap stud finder I could find is what led me to pick-up the The Pittsburgh Stud Finder. After using it a few times, I must say, it has exceeded my expectations. Especially for someone like me who enjoys a clean and smooth TV mounting project.
Just be weary of the pads when passing it along walls, the adhesive from them could rub off and leave marks if you press too firmly. Otherwise, it did the job as required and is slim enough to fit in the pocket of my travel kit. If you find yourself in a similar situation you could also consider using your iPhone as stud finder.
Pros:
Accurate Detection: The Pittsburgh Stud Finder consistently delivers accurate results, making it a valuable tool for anyone working on home renovations. It has helped me find studs behind my drywall with precision, saving me from potential mishaps when drilling or hanging heavy items.
User-Friendly, Perfect for Beginners: This stud finder is incredibly easy to use, making it an ideal choice for beginners. Its simple one-button operation, along with indicator lights and beeping sounds, guides you effortlessly to locate studs. If you're just starting with DIY projects, this tool is a must-have.
Affordable: One of the best features of the Pittsburgh Stud Finder is that it's cheap. As someone looking to add value wherever possible, I appreciate products that offer great value without breaking the bank. This stud finder certainly falls into that category.
Cons:
Battery Life: While the battery life is decent, I would have preferred a longer-lasting battery. However, considering the affordable price point, this is a minor inconvenience.
Wall Smudges: One drawback I've noticed is that it can sometimes leave smudges on the walls. It's important to be cautious and use a gentle touch when using it to avoid any unsightly marks on your walls. While this is a minor issue, it's worth noting if you're particular about wall aesthetics.
In Conclusion: The Pittsburgh Stud Finder is not only a cheap addition to my toolkit as I work towards obtaining more tools but also a fantastic choice for beginners. Its accuracy, user-friendliness, and budget-friendly price make it an excellent tool for anyone looking to tackle DIY projects around the house. Just be mindful of the potential for wall smudges when using it. I highly recommend it, especially if you're just starting out with DIY projects.