The right stud finder will increase the efficiency of your work, be it repairs or DIY crafts. We look at some of the best stud finders for home use .
Introduction
A stud finder is an unbelievably handy tool to have around, especially when you like to spend time making your own crafts or carrying out repairs. The best stud finder for home use will make your work easier, and ensure a high level of accuracy that will guarantee satisfaction.
The right stud finder for home use should be versatile and accurate, and may include additional features for full value. It should ensure an uninterrupted and quick process whether you are looking for studs, assessing your live wires or even hanging a picture. We look into some of the best models you could consider for home use.
Comparison Table
| Stud finder | Type | Check on Amazon |
| --- | --- | --- |
| CH Hanson 03040 stud finder | Magnetic | Check Price . |
| Zircon e50 Studsensor scanner | Electronic | Check Price . |
| Franklin Sensors 710+ ProSensor | Electronic | Check Price . |
| Fetanten stud finder | Electronic | Check Price . |
| Bosch GMS120 multi-scanner | Electronic | Check Price . |
| Bosch D-Tect 120 stud scanner | Electronic | Check Price . |
The Best Stud Finders For Home Use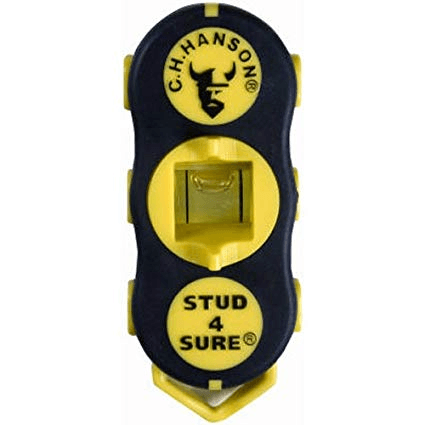 The CH Hanson 03040 magnetic stud finder is a budget option that delivers high quality performance. This magnetic stud finder will not require batteries or charging, and is ready to use at all times. It does not even require calibration. Thanks to industrial strength magnets, this model can detect metal through thicker drywall, and will hold up without any support.
It is a palm-fitting compact option which will be ideally suited for light and medium duty work. The CH Hanson magnetic stud finder is an inexpensive model that will do the trick for most surfaces at home.
Pros
Compact and lightweight for an easy pocket fit
Powerful magnets will facilitate hands-free use
Also includes a 2-way level for easier marking
No batteries needed
Gentle non-slip grip for fatigue-free use
Cons
May not work well with plaster walls
Not as efficient on bumpy surfaces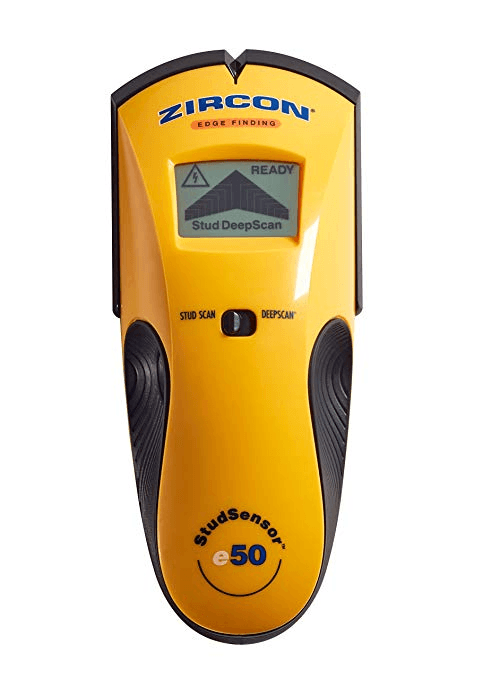 The Zircon e50 Studsensor scanner is a second great budget option for your home. This electric stud finder will deliver more accurate results than its magnetic counterpart, and also includes a Wire Warning detection system for added safety when working with live wires. The stud finder will even detect wood!
The model offers two detection modes with varying detection depths. Studscan will locate studs up to 0.75 inches deep, while Deepscan can find targets up to 1.5 inches, which makes it an ideal option for surfaces of different thickness. It also features a Spotlite Pointer that is designed to point towards the edge of a stud. We also like the scanner's shape and seamless fit in either hand.
Pros
Ergonomic design ensures a comfortable ambidextrous grip at any angle
Value for money buy
Wire warning detection for added value
Spotlite pointer marker for greater accuracy
Easy to read LCD screen
Cons
Does not include batteries
Not the most efficient model on the list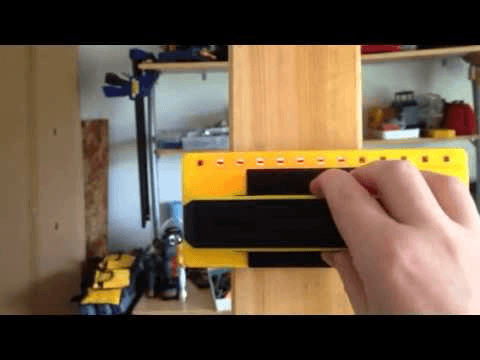 For a smaller model, the Franklin ProSensor 710+ packs quite the punch. This scanner is affordable and designed for heavy duty work. It features 13 sensors, which work to make it one of the most accurate models we reviewed. This model is so accurate that it will detect multiple scanners simultaneously with more precision than a single stud scanner could offer on each. The ProSensor scanner also contains a 2-way level and ruler for added value.
Unlike other smaller models, it also has a wider scanning surface which means you can get over large patches of work quickly. The model features bright and energy efficient LED lights, which are useful for detection. The LED lighting can also help you know when you need a battery change.
Pros
13 unique and high output sensors
Built-in bubble level
LED lights offer multiple value, including providing a battery level warning
Great performance on thick surfaces
Highly accurate output
Cons
Does not include batteries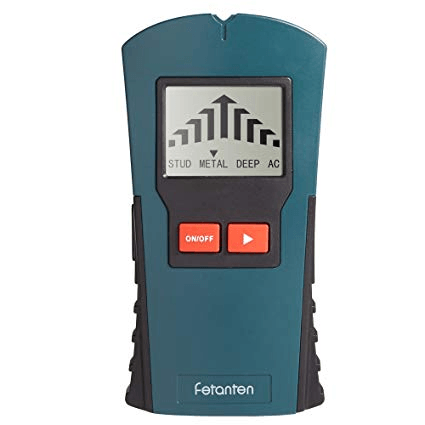 The Fetanten 4-in-1 stud finder is a versatile model that looks deceptively simple. It works to locate studs, joists, pipe, nails, and other components through an electric signal, similarly to other stud finders of the same type. However, it is very versatile and features the most accurate live wire detection mode we could find.
This model will offer four distinct detection modes, allowing for full value for your home. Stud mode will detect studs, beams, and joints up to 1.25 inches deep, which is the standard foremost scanners. Metal mode will provide metal detection support for up to 1.5 inches. Deep mode supports either of these two by providing more detection depth for the relevant components under each. Its proprietary AC mode will help you find live wires up to 2.36 inches in your walls with up to a 99% accuracy level.
Pros
Different modes for task-specific needs
Noise alert to ensure no missed detection
Best live wire detection capacity
Low battery indicator for added value
Clear LCD display
Cons
Not the highest accuracy of models featured
Unimpressive battery consumption rate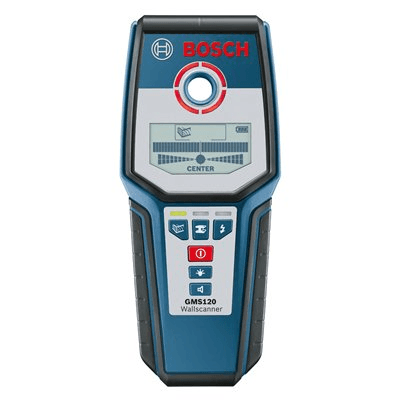 The Bosch GMS120 scanner is a versatile option with multiple modes for added convenience. This scanner will detect ferrous and non-ferrous metals, power cables, wooden substructures, and even plastic fixtures. It can sense metal up to 4.75 inches beneath your working surface, which makes it a standout performer in this regard.
The deep scanning capacity of the model also makes it ideal for use with beams and joists. It features a great LCD display which offers detailed detection data for a seamless process. It also includes an audio and light detection system that makes it easier to use.
Pros
Includes hand strap for comfortable use
LCD display is clear
Features audio alerts and color-coded detection lighting
Includes batteries
Cons
Not the best for use on concrete
A bit higher end than other models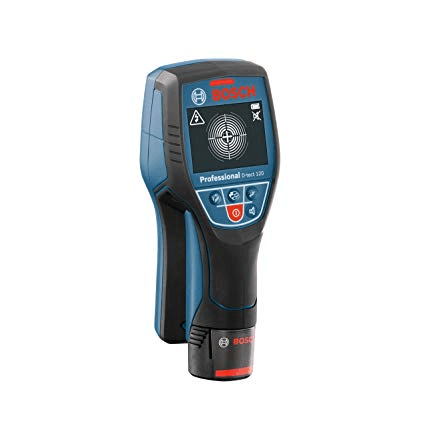 The Bosch D-Tect 120 stud finder is another sturdy and powerful option by the brand. This model features a detection depth of up to 6 inches, which ensures a holistic picture when you work. The Ultra-Wide Band technology covers a greater surface at a time than any stud finder we've featured, which ensures you can enjoy a hassle free and efficient process.
The scanner also offers 7 different detection modes for the best output with concrete, wet concrete, deep concrete, in-floor heating, drywall, and metal options available for you. It is a highly accurate option, and is very suitable for professional work. If you are looking for a high output stud finder and are facing a smaller budget, this scanner could be just what you need!
Pros
Great measuring accuracy
Resistant to dust and water
Biggest detection depth of any scanner listed
Includes carrying case and batteries
Cons
Most high end option featured
What Should An Ideal Stud Finder Offer?
The price is a major factor when choosing a stud finder for home use, because your budget will dictate what you should consider. However, there are many options available in different price ranges, allowing you to find a suitable model for your needs without breaking the bank. If you are looking for a stud finder for regular professional use, you may consider the high quality and higher end options. If you are considering a model for spatial use, you have more budget friendly options to consider.
So, what are some of the key factors that should go into your decision?
Material
Some stud finders will offer a standard performance across different materials, while others may work best with only a select group. If you are looking for a stud finder for home use, it is important that you consider the type of material you will most likely work with before making your decision.
Type of stud finder
The type of stud finder will also hold a key stake in your choice. There are two main types of stud finders, with a third new entrant making waves in the field. Magnetic stud finders, which may either be stationary or moving, are the basic models of this tool. Magnetic stud finders require no calibration or batteries, and they are ready to use as-is. You will only need to sweep over your surface of interest when working with this type of scanner to determine the location of nails, studs, joists and other target points. These stud finders are limited in their ability to detect wood studs.
Electronic stud finders are the most common types available on the market today. These tools use battery power or live connection to monitor changes to the electric field. They can even determine density changes in thick surfaces to point out the location of target components. The scanners will offer better detection depths than magnetic stud finders, and may include an LCD display for added value. Some electric stud finders may also feature other tools such as a level and ruler for full benefit.
Radar stud finders are a new development, but they hold just as much potential as electronic stud finders. They use radar technology to determine the composition of a surface by sending out radio energy waves and deciphering their transmission rates. These bouncing signals allow your radar stud finder to map out the location of each target by accounting for the differences in wave reflection times. While they are highly effective, radar stud finders will generally be the most expensive of the bunch.
Can You Find A Stud Without A Stud Finder?
The handy tool is designed to make work much easier, but finding studs can also be a manual process. We have provided a detailed look at some of the best models we could find for home use. If you feel you need a little more time to make your decision but have a pressing task, this life hack should help you get it done without too much of a hassle. Just keep in mind that a stud finder will cut down your work time greatly and reduce the risk of inaccuracy.
Determine your wall profile and check out the trim
Every home will be built to a unique set of plans, but there are basic principles that hold true for most houses. For instance, most modern homes are built with 2×4 or 2×6 studs. Studs will generally be spaced about 16-24 inches on center, which points to a somewhat standard range of measurement between the middle of two interconnected studs. Windows and doors may have studs on either side, but this heavily depends on the floor plans. Electrical boxes will usually be attached to a stud as well.
Your trim – the crown molding, shoe molding and baseboard – is also likely nailed onto a stud. Your trim is a great place to start. Since it is very likely linked to a stud, look to see where it is nailed on. Usually, the holes are painted and filled but may be a great help for manually finding your next stud. When you find these holes, you should measure 16 inch increments to determine your next stud.
Find the switch and measure from the corner
There are no guarantees that you will have any luck checking your trim. Switches and outlets can also be helpful pointers, since at least one side of these electrical fixtures could be mounted on a stud. Experts recommend the knock test, which is not highly accurate. Should you determine that a stud is on the left or right of your outlet, you should measure 0.75 inches away from the outlet to map out your first stud and center point for 16 inch intervals. If you are not successful with either of these, you could consider measuring from the corner to map out all your studs. You need to carry out the knock test on all corners to determine the shorter stud-spacing.
Best Stud Finder For Home Use: Final Word
The Franklin Sensors 710+ ProSensor scanner is our best stud finder for home use. The model features a built-in ruler and level, which increases its versatility without compromising output or design. It also has a large number of sensors and is designed for heavy duty work, which makes it ideal for a number of tasks in your home setting. This scanner is very easy to turn on and use. It relies on an LED light response system for alerts upon detection, but these lights can also help you manage your batteries better. If you are looking for a value buy that offers more than the basic stud finder features, the ProSensor stud finder is the go-to pick for you!