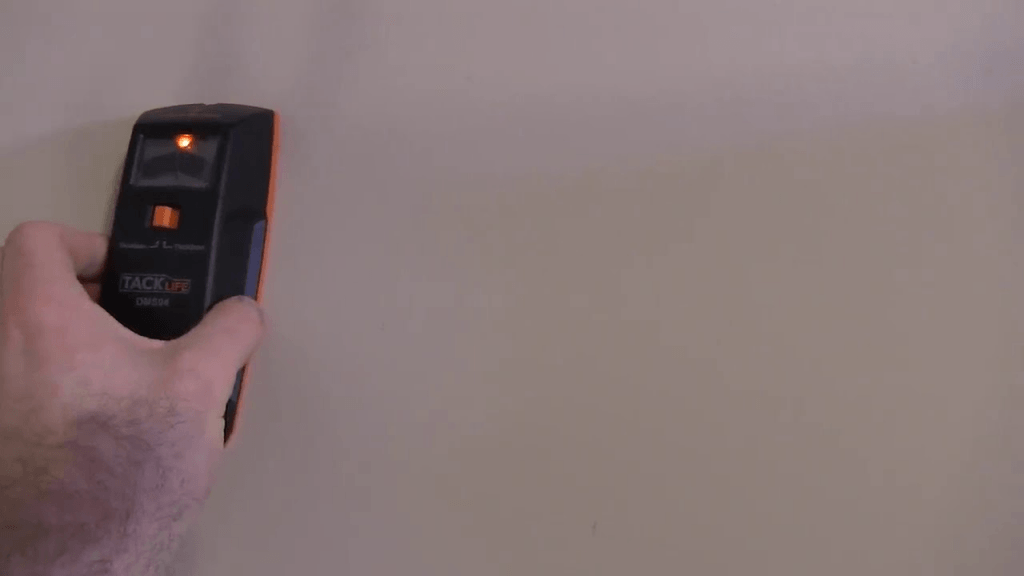 No one wants to damage their home while they're drilling and hammering into the walls, but sometimes mistakes happen. The Tacklife DMS04 will help you avoid hazards while you're mounting your TV, hanging a picture, renovating your wall, or doing some construction project.
When you're considering carrying out some minimal renovations around your home to improve your living conditions, it's important that you carry out the work in a proper manner. Getting a stud finder will help make your work easier. It will detect live wires, metals, wood, and other studs you should avoid when you're drilling or hammering through your walls.
Before you decide on the best stud finder to buy, you need to consider if there are any pipes or live wires in the areas you're planning to work on. Are you planning on cutting through any metal reinforcements? What kind of materials do you plan to use on that surface? The best stud finder should be able to detect different metals and live wire to avoid disasters.
What To Expect From The Tacklife DMS04
The Tacklife DMS04 is a stud sensor you can use for detecting live wires, wood, and metals deep inside your walls and help you locate studs correctly to prevent any hazards. If you have DIY projects around your home, this stud detector is perfect for you. It has a nice comfortable grip that makes it easy to hold and operate the button at the same time. It comes with two sensor stud scanning modes that you can select from depending on the thickness of your wall.
You can use it to locate live wires up to 2 inches deep. It's easy to use and convenient in finding stud edges, which are then displayed on the LCD screen. It also has a unique orange light and target indicator that alert you when it has found any studs in your walls. It automatically calibrates itself when you place it on the wall. The best part about this stud finder is it doesn't just detect a stud, it also goes further and identifies the edges of the studs. This saves you time and effort.
Who Is The Tacklife DMS04 Stud Finder Best For?
This stud finder is perfect for you if you love DIY home improvement projects. It's also ideal for masons, plumbers, home renovators, carpenters, contractors, electricians, and construction workers who need to quickly and accurately identify where the live wires, metal, wood, copper and steel pipes are hidden behind walls. Instead of guessing if there is anything behind your walls, you can use this stud sensor to locate the center and edges of studs. You also don't need to pay an electrician to show you where the live wires are, you can do it all by yourself with this stud finder.
What Are The Features?
Two stud scanning modes
Depending on the thickness of each wall, you can either select the StudScan mode to locate the edges of wood or metal studs up to 0.75 inches deep, or the ThickScan mode to locate metals that are 1.5 inches deep. This will give you accurate locations to avoid any mishaps. It can also locate live wires that are 2 inches deep.
Automatic calibration
This DMS04 stud finder can automatically calibrate itself when you turn it on. All you need to do is place the stud finder against the wall until the beeping sound stops and what is showing on the screen disappears. This makes sure that the readings you get are accurate thus reducing any errors and also makes sure that hidden objects behind the walls are detected properly.
LCD display
This Tacklife DMS04 stud finder comes with an LCD display screen that is designed with target indicators and gives out an orange light that makes it easy to detect and see on the screen the edges of a stud. It has a V-groove which makes it easier to get accurate edges of a stud, and also shows you the exact location of the stud on the LCD display. It continually produces a beeping sound once it detects an object as a warning.
Ergonomic grip design
This stud finder is well designed with an ergonomic grip on the handle to provide a firm grip and help you to hold it comfortably using either of your hands, at an angle. You can easily control the scan button with one finger while the rest of your fingers hold the device in place.
Pros
This stud finder has two scan modes, the ThickScan mode and the StudScan mode, for more accurate detection.
Displays an orange light on the display screen and a beep indicator when it locates a stud.
This stud finder can detect metal, live wire, and wood in your walls.
Saves battery power by automatically shutting down when not in use for more than 5 minutes.
It's a small, portable, and easy to use stud finder.
Very affordable for your DIY home projects.
Cons
It's not too accurate.
It's not easy to read.
Final Thoughts
If you love DIY home projects, a stud finder is a must have in your toolbox. It will make the difference between an excellent job and a complete disaster. Otherwise, you risk causing damage to your drywall, floor, or ceiling because you tried to install unsupported items. The Tacklife DMS04 stud finder uses electronic signals to scan and locate the edges of metal or wood studs or live wires through drywall or other building materials.
With an electronic stud finder, it's easier to detect electrical wiring hidden in your walls to avoid any hazards. Although a stud finder isn't a device you will frequently use around your home, it will be of great use at times. It will also save you money that you may have used to seek professional help to carry out some simple home improvements you can handle yourself.