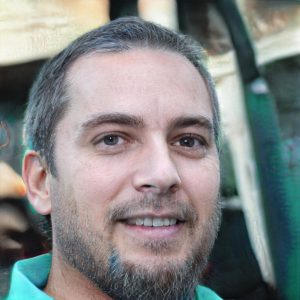 My love for handy work has grown into great talent over the last couple of years. My interest in construction started when I was a young teenager from watching TV shows on home construction and renovation like the This Old House and Home Improvement (which later grew into my profession in construction and then into being an expert in these kinds of tasks).
While one of my main aims is to help individuals build their perfect homes, I also have a passion for spreading knowledge that will help people have a better understanding of home improvement tasks.
I believe everyone needs knowledge on small home gadgets that can help with DIY projects which in turn helps you explore your creative side and save money while doing so.
What Are Stud Finders?
Stud finders, also known as stud detectors, are handheld devices used on buildings to locate the framing stud (the upright wood pieces that form the framing in your home) in the final walling surface.
When you want to hang a shelf on the wall, you need to be sure to attach it securely so that it doesn't fall under the weight of the items that you set on top of it. If you don't know where the wall studs are at this can be done via a wall anchor that expands into the wall as a screw is screwed into it. But wall anchors are never as secure as simply drilling into the 2×4 stud itself, and that's where a stud finder comes in handy!
Most people do not bother with locating the studs but finding them is very valuable, especially when you want to anchor over-sized frames, mirrors, bookcases, pictures, and other large items on your walls.
There are many stud finders available but the main categories are electric stud finders and magnetic stud detectors.
Our goal with this site is to educate you on stud finders and help you choose the best one for your specific needs and budget. Best of all, all of the stud finders we recommend can easily be purchased online.
A Brief History Of Stud Finders
While stud finders seem like a very modern technology, they actually came into play around the 1900s. The first type of stud finders only came in magnetic form. They relied on the magnet to find the stud.
Robert Franklin designed the electronic stud finders later in 1977. This device relied on the internal capacitor to measure various densities on every wall.
Franklin's device was manufactured by Zircon and the patent ran out in 1988. Today, there are hundreds, if not thousands, of models to choose from.
The difference between the first electronic stud finders and the stud finders you'd find on store shelves today is that the modern stud finders have numerous sensors which means they can detect multiple studs inside the wall at the same time. Modern day stud finders can also detect the width of the studs.
What Are The Variations Of Wall Stud Finders?
Electronic stud finders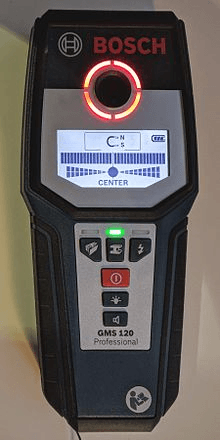 As mentioned, this is an easy way to find a stud. The electronic ones work by measuring the density of the part of a wall you are holding the tool up to. The stud finder identifies the area of density and lights up to indicate that there is a stud.
Electronic edge finders
These detect changes in the density of a wall. They are the most basic type of finders. They need to be calibrated on an empty section of the wall before you can run them along the rest of the wall and detect change in density.
Center finders
They are really more complex on the inside but very easy to use. They are much more efficient than the other electronic finders. They can locate the center of the stud with the help of two sensors that register the wall density separately but simultaneously.
Instant stud finders
These are the most effective and accurate type of stud finders. They can locate the center as well as the edges all thanks to the numerous sensors present. Also, you will not need to move this sensor against the wall which is great in overcoming some issues.
Magnetic stud finder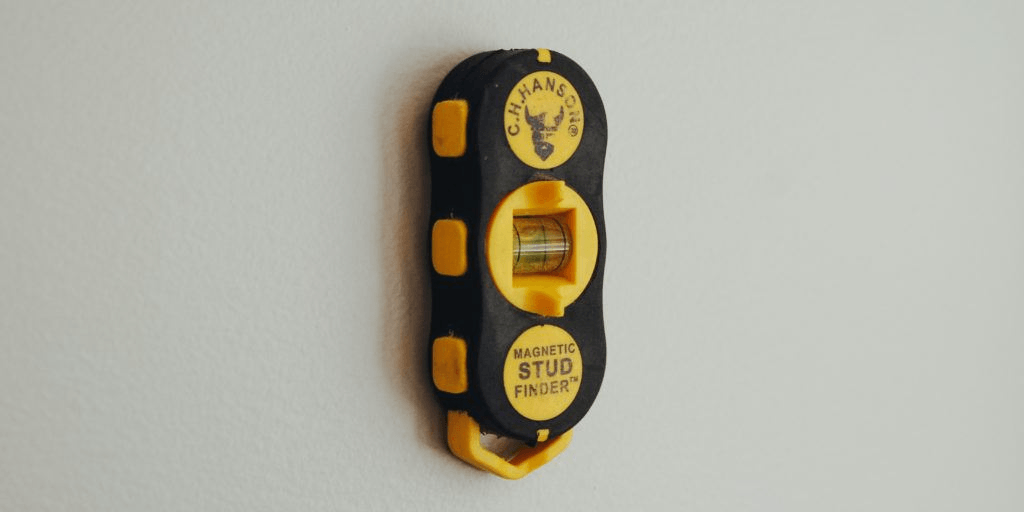 This is basically an inexpensive alternative to the electronic stud finder. It uses magnetism to identify the screws and nails embedded in the studs.
The magnetic stud finders will work very well in some basic situations but are used as a supplement to the electronic ones. The good thing about magnetic stud finders is that they detect metal conduits and pipes but we'll talk about that later in this section.
With this stud finder, you will need to be careful about marking the right locations where the actual studs are. Typically, they are about 16 inches apart on the center.
There are two main types of magnetic stud finders:
Stationary magnets finder
These use stationary magnets to detect the studs on the wall. All you need to do is run the finder across the surface and wait until there is a force or a pull. That is when you know that the magnets have detected the stud.
These stud finders are perfect for people with drywall because the studs are really close to the surface.
Moving magnets finder
Moving magnet finders, unlike the stationary ones, can extend the range of the magnets. They use a neodymium magnet, a rare earth metal that acts as a very strong magnet.
The stud finders move at a similar speed to the depth of the metal. They make different strengths on different walls.
What Are The Benefits Of Using Stud Finders?
So why do we need stud finders? We've already addressed this briefly but let's go more in-depth. I'm sure you'll see that the pros of using stud finders far outweigh the cons.
Pros
Very easy to assess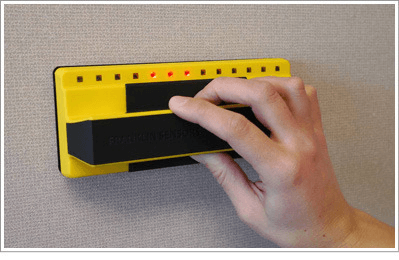 With the finders you can easily assess where the studs are without having to play the guessing game. While some professionals can detect the studs without having to use the finders, the methods they commonly use to do so are not always accurate. Tapping on the wall and listening to various sounds is simply not enough.
The stud finder does the work for you. All you have to do is run it along the wall!
Can detect a variety of objects
Surprisingly, stud finders do more than just detect the studs along the wall. Some of the models can detect plumbing pipes, electrical wires, conduit boxes and other objects.
This way, you can avoid drilling holes through the water pipes and electrical wires which would obviously be very bad. You don't want a simple DIY shelf-hanging job to turn into a plumbing nightmare or trip to the emergency room!
Cons
You can get a false positive due to improper use of the tool or by purchasing an unreliable brand.
Not all stud finders work on all surfaces. You have to be careful about choosing the right one for your unique situation.
Features Of A Basic Stud Finder
Both electronic and magnetic stud finders come in various shapes and sizes. They vary in weight and come with a variety of features.
Below are some basic features you should expect from a well functioning stud finder.
Hands-free usage
Hands-free stud finders find the stud while staying attached to the wall.
You can mark the location of the studs without taking it out of the wall which allows you to keep track of the locations without straining.
You can also mark multiple studs at the same time depending on the type of stud finder you choose.
These types of stud finders are very handy (pardon the pun) but this is not to say that the stud finders that require you to slide them across the wall surface don't function well.
Rulers and levels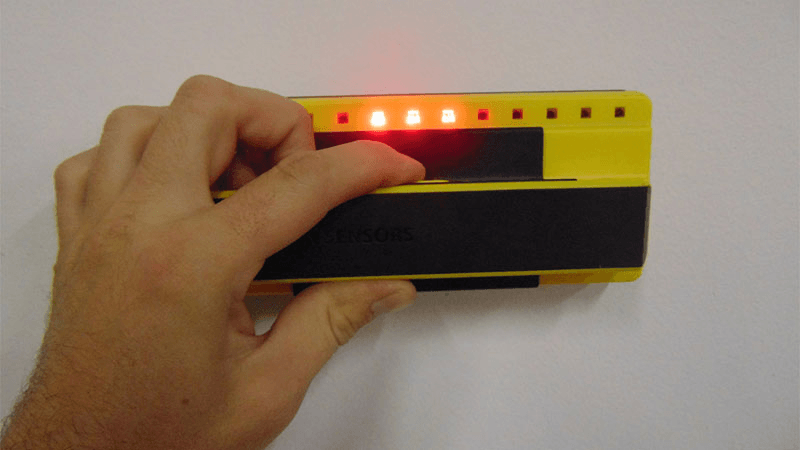 In addition to the hands-free feature, some stud finders also come equipped with rulers and levels on them. This makes it easy for people to install TV mounts, mirrors, pictures, and pieces of art work straight on the wall.
Choosing a stud finder with a built in level allows you to make more accurate marks on the wall so you can hang everything evenly.
Alerting systems
One other difference between the magnetic and electronic stud finders is that the electronic ones have a digital display to show the stud placement.
The electronic models can also vibrate or make a sound once a stud is found. Some models like the AOM Stud Finder send you different colored alerts depending on the distance of the studs and other objects behind the wall.
Sensors
This is obviously an important part of any stud finder. While magnetic models do not have sensors, they work well in detecting the stud. They use the magnets to alert you when there is a stud behind the wall.
Electronic models have multiple sensors and give you more accurate readings over their magnetic counterparts. You can find some models that come with up to 15 sensors. Each of the sensors is individual, meaning they can detect multiple studs separately.
How A Stud Finder Works In 5 Simple Steps
Now that you have plenty of information about stud finders and what they do, it is important to understand how they work.
The right way to use you stud finder will depend on the model you are using.
Here is a basic outline on how you can use the stud finder.
Step 1: Determine where you want to hang the objects
Before you use the stud finder, you need to understand where you want or need to hang the object(s) you are hanging.
Remember that if you're hanging something with a bracket to base your measurements off the top of the bracket and not where the holes in the bracket are.
Step 2: Calibrate the stud finder
Before using the stud finder, you should calibrate it.
Place the unit against the wall and hold down the side buttons to begin the measurements.
Step 3: Slide the stud finder horizontally across the wall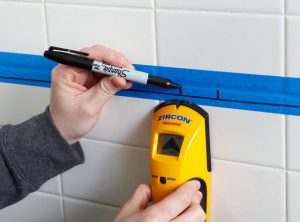 While you are still holding down on the side buttons of the stud finder, slide it horizontally across the wall. Once you get an alert, you can move on to the next step.
Step 4: Mark the stud location with a pencil
Like I stated before, different stud finders have different modes of operation. Depending on the model you choose, you may have to use it several times to locate the stud.
An edge finder should signal you once the device locates the edge of any dense objects on the wall. Make sure you mark the location with your pencil and use the finder to find any studs on the opposite direction from that point.
With the center finder, the process is easier. You receive different signals from the finder that points out the center of the stud.
Step 5: Make sure you locate several studs before you start drilling
It's very important to make several markings on different studs before you drill, hammer, or hang anything on your wall. You want to ensure that the stud finder does not confuse the stud for electrical wires, plumbing, or anything else. Typically, studs are about 16 inches apart.
The Best Stud Finders For Different Types Of Walls And Constructions
Ceilings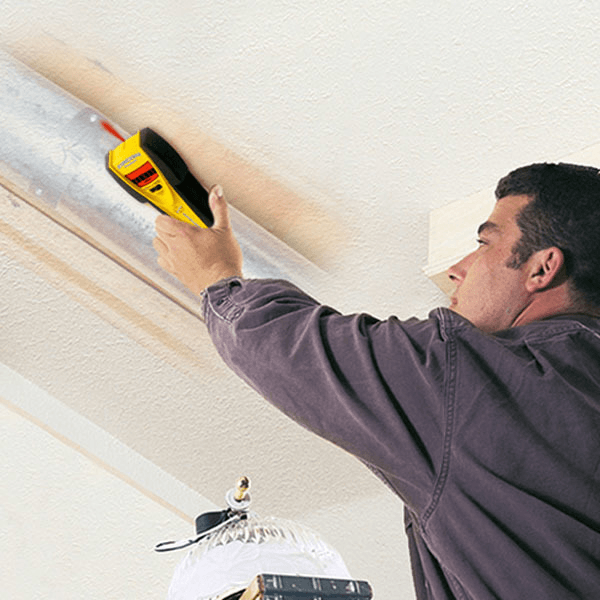 Ceilings are a great example of an area that can benefit from using a stud finder. Either type of stud finder will work.
You can use the magnetic stud finders to locate the studs and ceiling joists since it can detect the nails on the studs and joists easily.
You can also use electronic stud finders to find the ceiling studs and joists. The electronic finders use sensors to identify any changes in the composition of the spaces located on the ceiling.
With the electronic finders, a calibration is usually needed which means you will have to start off in a location of the ceiling with no studs. The detector will alert you when you locate the studs.
Here, false positives are very common and you may have to repeat your actions to find the actual stud.
Some of the best stud finders for ceilings include:
Precision ProFinder Stud Finder – Has one of the largest depth detection ranges.
Black and Decker Bullseye Stud Finder – Has an auto leveling laser that is perfect for ceilings.
ProSensor Franklin Sensors Stud Finder – Can detect multiple studs simultaneously. It is highly rated, comfortable and convenient.
Floor joists
Stud finders for floor joists help you get work done without any complications on the floor. They can come in handy especially with the electrical wires and piping in the floor.
Some of the best stud finders for floor joists include:
Precision Sensors ProFinder 5000+ Stud Finder – Has a built in level, integrated ruler and a pencil caddy to make work efficient.
Zircon i520 Multi-Scanner Stud Finder – LCD screen and auto correct technology make it unique.
Aikotoo Stud Finder – Can cover very deep surfaces. Detects metal and live wires.
Plaster walls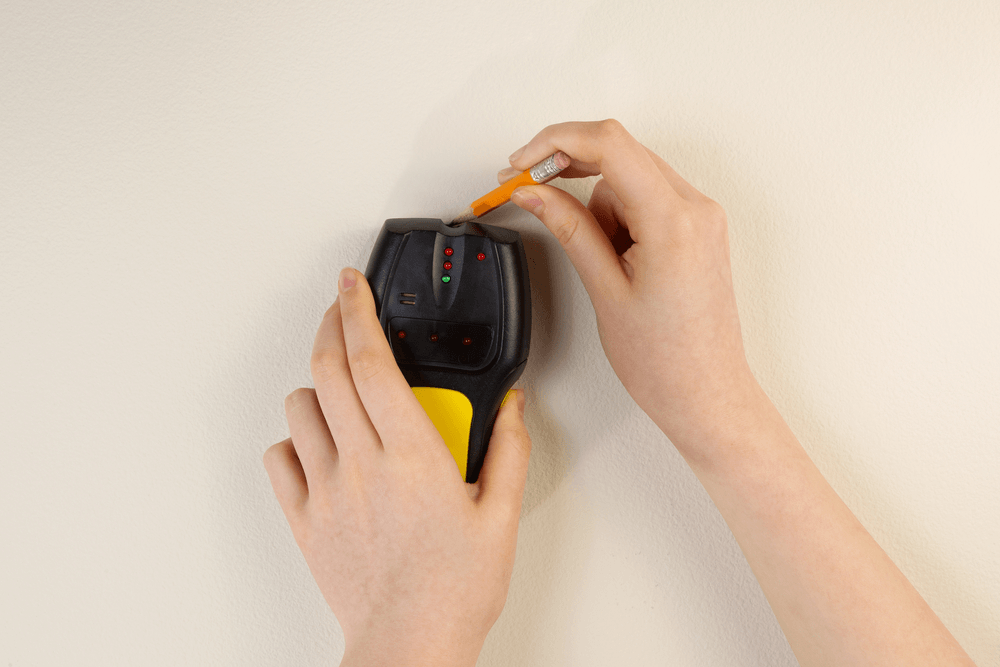 Plaster is a great wall material and is easily replaceable making it relatively common in houses today. Plaster wall stud finders help you with a variety of things like maintenance projects, DIY installations and repairs.
Finding studs beneath plaster walls is made easier by some of the best stud finders for plaster walls.
Some of the best stud finders for plaster walls include:
Stanley Fatmax FMHH7704 Stud Finder – Hassle free and easy to use.
Franklin Sensors Prosensor 710 Stud Finder – Consistent in performance.
B&D Bullseye Stud Finder – Has a wide variety of functions.
Brick walls
Did you know that there are stud finders that can actually work through real brick? We have an entire article on the site dedicated to talking about this very topic. You can check it out here in our article titled "Do Stud Finders Work Through Brick?"
Tile walls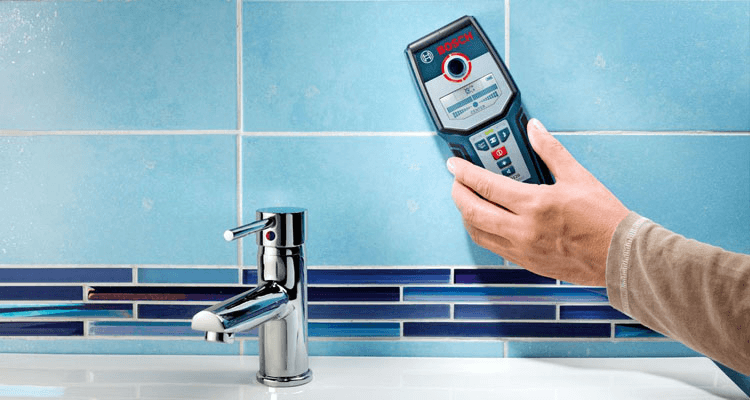 Tile walls are tougher than drywall which is why not all stud finders will work the same in both of these scenarios. Dedicated tile wall stud finders make it easier to detect the studs and reduce the number of false positives you would get using different stud finders.
Some of the best stud finders for tile walls include:
Zircon i520 Multi-Scanner Stud Finder – Works great on many different surfaces, including tile walls.
StudPop Magnetic Stud Finder – Delivers a high output on tile walls.
CH Hanson Magnetic Stud Finder – High accuracy and low budget stud finder.
Commercial Use Of Stud Finders
Is there a difference between commercial and DIY use of stud finders?
The gadgets and finders marked for commercial use are typically the same ones individuals use for DIY projects. The only real difference is that experts know exactly what types of stud finders and features they need for a specific job whereas a DIY'er might need a hand in determining these things (which is where we come in, of course).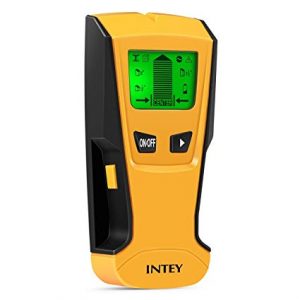 The stud finder you get can make a great difference with how you go about drilling into your wall or ceiling.
You want to make as minimal mistakes as you can so you don't drill into water pipes, gas pipes, electrical wires, etc. Experts generally use stud finders to avoid doing any potential damage or causing other serious issues in the homes they are working in. Stud finders differ in material, depth detection, style and other features.
Stud Finders And Microchips
Microchips are very tiny circuit boards used to locate things. They are common in dogs, cats, and other objects. They are injected into the subject you want to keep track of and remain embedded until you want to remove them.
Common characteristics about chips include:
small in size
use radio frequency identification
can be in external form
Did you know that you can sometimes find a dog or cat microchip using an ordinary household stud finder?
To see if an animal is microchipped, first check their tag or collar. Sometimes microchips are attached externally to the tag or collar itself.
If you can't find a microchip on the animal's tag or collar, then you can feel around the animal's skin for a small bump that could be the microchip. They are usually about the size of a grain of rice.
If you can't find a microchip by feeling around the animal's skin then you can try to use a stud scanner to find the chip on your pet. Keep in mind that even if you find the chip with your stud finder you will not be able to access the information on the chip. You'll need to take the animal to your local veterinary clinic where they have the proper tools to detect the chip and retrieve any information on the chip itself.
Stud Finders For iPhone
The iPhone App Store and Google Play Store both feature a variety of stud finder apps. But do they work? To answer that we first have to understand how the stud finder works with your iPhone or Android device. The stud finder apps on the iPhone and Android devices allows you to detect any metal that is near you by using your phones built in magnetometer (so long as your device has one).
In this sense, your iPhone or Android device can operate much like a magnetic stud finder like we discussed earlier. The presence of metal in a wall can indicate that there is a screw or nail secured into a stud in that spot.
The best finders for iPhone and Android include smart metal detector, metal detector and magnetometer, metal detector free security scanner and I'm sure there are many more.
Final Word
Stud finders are really fascinating and helpful gadgets. I would recommend that you get one for your home projects because they can save you from a variety of major issues such as plumbing and electrical issues from drilling into the wrong spot to minor issues like imbalanced placement of objects on your wall.
As an expert in my field, I'm glad to help people gain as much knowledge as they can about various gadgets, including stud finders, and how to use them to their advantage.